Midday Stock Roundup
Thursday, July 3, 2014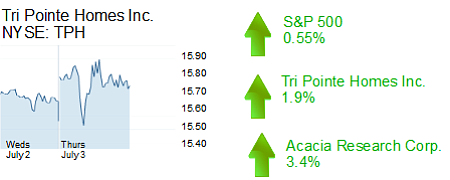 The S&P 500 rose 0.55% to 1,985.40 in trading Thursday, during a holiday-shortened session.
The Dow Jones Industrial Average was up 0.54% to 17,068.65, crossing the widely awaited 17,000 mark.
Meanwhile, the Nasdaq was up 0.63% to 4,485.93.
The yield on a 10-year Treasury bond rose 0.76% to 2.65%.
The price of gold was down 0.80% to $1,320.30.
HOMEBUILDING
Irvine-based Tri Pointe Homes Inc. was up 1.9% to $15.76 and a market cap of $498.5 million on heavy volume. Nearly 9.9 million shares traded, versus a 90-day average of 1.3 million. Its merger with a unit of Federal Way, Wash.-based Weyerhauser Corp. is slated to close Monday. Weyerhauser was also up by 1% to $33.22 and a market cap of $19.4 billion.
SERVICES
Acacia Research Corp. in Newport Beach was up 3.4% to $18.67 and a market cap of $934.7 million. The company said it expanded its relationship with Renasas Electronics Corp. in Japan to include access to that company's worldwide patent portfolio.