Midday Stock Roundup
Tuesday, January 14, 2014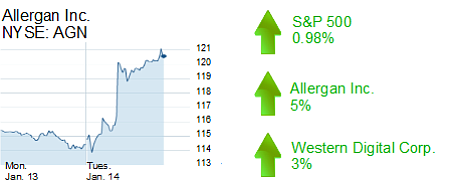 The S&P 500 rose 0.98% to 1,836.97 in afternoon trading Tuesday.
The Dow Jones Industrial Average was up 0.59% to 16,353.20, while the Nasdaq was up 1.59% to 4,178.84.
The yield on a 10-year Treasury bond rose 1.63% to 2.87%.
The price of gold fell 0.45% to $1,245.50 per ounce.
HEALTHCARE
Irvine-based drug maker Allergan Inc. rose about 5% to $120.32 for a market value of $35.75 billion. A judge ruled in Allergan's favor in a patent-infringement lawsuit. The decision blocks copies of Allergan's Lumigan from coming to the U.S. until 2027.
Irvine-based heart valve maker Edwards Lifesciences Corp. was up about 2.5% to $70.46, a day after announcing it will initiate a clinical trial of its Sapien 3 heart valve. Edwards had a recent market value of $7.71 billion.
TECHNOLOGY
Disk drive maker Western Digital Corp. in Irvine rose about 3% to $87.24 for a market value of $20.62 billion. Deutsche Bank raised its price target on the company from $83 to $103, while maintaining its "buy" rating, based on PC demand.
Irvine-based chipmaker Broadcom Corp. was up about 2% to $29.37 for a market value of $16.68 billion. Analysts at B. Riley & Co. upgraded the company's stock from "neutral" to "buy."

Networking equipment maker Lantronix Inc., also in Irvine, jumped about 24% to $2.20 for a market value of $32.07 million.

MEDIA
Irvine-based Autobytel Inc. shares surged about 16% to $15.74 for a market value of $140.23 million. The company, which operates websites that provide consumers with vehicle information, said it bought AutoUSA for $10 million.