Pacific Sunwear Lowers Guidance on 'Choppy' Holiday
Friday, January 10, 2014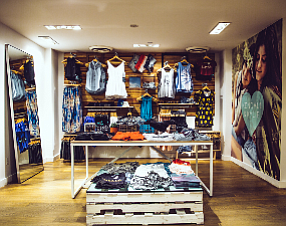 Shares of Anaheim-based action-sports retailer Pacific Sunwear of California Inc. slumped in afternoon trading Friday, a day after it lowered its guidance for the January quarter following a slowdown at its stores during most of December.
Shares were down about 14% to a recent market value of $201.65 million.
Pacific Sunwear, which has 629 stores, was not immune to the rough waters many retailers, in particular those catering to teens, faced during the crucial holiday selling season. The period saw heavy discounting amid slower-than-expected traffic as retailers sought to clear their inventory.
Pacific Sunwear said it now expects a loss in the range of $13.59 million to $15.86 million. That compares with guidance of $9.06 million to $12.84 million.
The retailer also said it expects revenue of $211 million to $214 million compared with previously stated guidance of $216 million to $225 million.
Same-store sales are expected to be flat to up 1%. Previous guidance called for comparable sales growth in the range of 1% to 5%.
"After a strong start to the holiday season in November, the first three weeks of December were significantly below our expectations primarily due to a decrease in traffic and softness in denim," Chief Executive Gary Schoenfeld said in a statement. "Business picked up in the final few days prior to Christmas and then finished the month strong as self-shoppers came back to the mall. Overall, it has been a choppy holiday season and we now expect fourth quarter comparable store sales to be flat to 1%, compared to last year."