Leasure Tapped for Permanent Americas President Role
Monday, January 6, 2014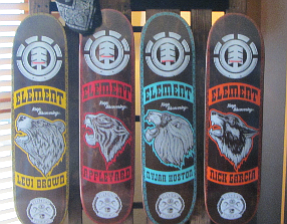 The parent of Irvine-based Billabong USA on Monday named Ed Leasure president of its Americas division on a permanent basis.
Leasure had been named interim Americas President in October.
The announcement also came with news that the company hired Susan Branch to be global general manager for the Billabong women's business.
"We see tremendous growth opportunity for Billabong Womens, which is why we've specifically created this role to give it a dedicated focus," Billabong International Chief Executive Neil Fiske said in a release.
Branch previously worked at Billabong rival Quiksilver Inc. in Huntington Beach, where she was senior vice president and global head of product for the Roxy and Quiksilver brands.
Fiske is the newly appointed Billabong International chief who came on board in September following a tumultuous period for the company during which it fielded multiple purchase offers amid a tough business environment.
The company said it is now focused on a turnaround strategy that places emphasis on growing its larger brands Billabong along with Element and RVCA, both of which are headquartered in Costa Mesa.