Midday Stock Roundup
Thursday, August 7, 2014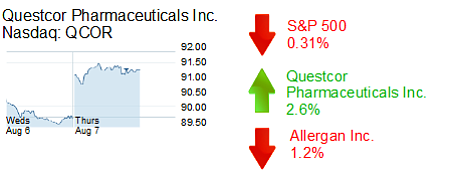 The S&P 500 fell 0.31% to 1,914.35 in midday trading Thursday.
The Dow Jones Industrial Average fell 0.31% to 16,391.68, and the Nasdaq fell 0.18% to 4,347.12.
The yield on a 10-year Treasury bond fell 1.3% to 2.44%.
The price of gold was up 0.37% to $1,313.
HEALTHCARE
Anaheim-based drug maker Questcor Pharmaceutical Inc. is up 2.6% to $91.70 and a market cap of $5.5 billion. Its acquisition by Mallinckrodt Plc is expected to close this month, and Mallinckrodt narrowed its third-quarter loss while raising its full-year adjusted earnings guidance by 70 cents a share to $4 to $4.30. It said revenue this year would be $2.35 billion to $2.45 billion on higher specialty pharmaceutical sales. Mallinckrodt was up 2.5% in midday trading to $69.97 and a market cap of $4 billion.
Irvine-based Allergan Inc. was down 1.2% to $155.16 and a market cap of $46.2 billion. The company said calls this week to hold a special shareholder meeting don't change a "grossly inadequate" bid to acquire the drug maker by Valeant Pharmaceuticals International Inc. in Quebec and Pershing Square Capital Management in New York City. Two proxy firms this week backed those companies' call for a special meeting to vote on a new board of directors.