Emulex Shares Rise on Quarterly Report, Outlook
Thursday, August 7, 2014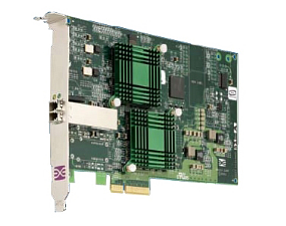 Shares of Emulex Corp. rose in after-hours trading after the Costa Mesa-based networking equipment maker reported June quarter revenue and adjusted profits that beat Wall Street expectations and provided financial targets in the current quarter that were above estimates.
Investors seized upon the strong quarterly performance, sending shares up 3.5% to a market value of about $454 million.
The company posted revenue of nearly $100 million, down 17.1% from a year ago and beating analyst forecasts of $96.6 million.
Adjusted profits topped $5.8 million, down 58% from a year earlier and above Wall Street estimates of $2.4 million.
For the 12 months through June, the end of its fiscal year, Emulex posted sales of $447.3 million, down 6.5% from the same period a year ago.
Adjusted profits hit $48.6 million, down 27.3%.
Emulex designs and makes networking equipment that connects storage, servers and data centers.
It is a leader in the emerging 10-gigabit Ethernet connection market, a competitive segment that's drawn big industry players as storage needs and speedy data transfer become increasingly important.
The company has seen sales slide as maturing markets, such as fiber-channel connections, gradually decline.
Emulex underwent a significant management and board shakeup over about the past year.
Chief Executive Jeff Benck replaced Jim McCluney at the helm in July 2013. McCluney was named chairman after the move but was replaced in March by Bruce Edwards, an Emulex board member since 2000.
The company replaced five of its 11 seats with new directors who brought executive leadership, operations experience, and deep industry connections to the conference table.
The tumult was prompted by Emulex's $130 million acquisition of New Zealand-based Endace Ltd. last year, which drew the ire of Wall Street and activist investors.
McCluney, who coveted the technology designed to record, visualize and monitor network traffic, said at the time that Endace "doubles our total addressable market and places Emulex in another high-margin, high-growth market."
The emerging segment topped $345.5 million in sales in 2012, up 22.4% over 2011, according to a report by Frost & Sullivan. The San Antonio-based consultancy forecasts revenue to grow at an annual compound rate of nearly 25% between 2012 and 2020.
The company believes it's in a good position to benefit from two major server upgrade cycles this year from Intel and IBM, Benck said in the earnings report.
Emulex projects revenue in the current quarter of between $93 million and $99 million, which is on the high end of analyst estimates.
Adjusted profits are pegged at $5.6 million to $8.8 million, above Wall Street estimates of $4.8 million.