Midday Stock Roundup
Monday, August 4, 2014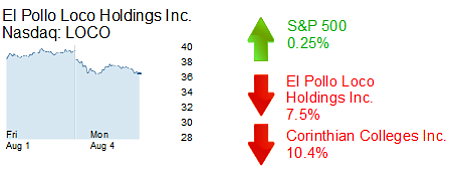 The S&P 500 rose 0.25% to 1,930.02 in midday trading Monday.
The Dow Jones Industrial Average rose 0.1% to 16,507.55, while the Nasdaq rose 0.43% to 4,371.25.
The yield on a 10-year Treasury bond fell 1% to 2.48%.
The price of gold was down 0.5% to $1,288.70.
RESTAURANTS
Costa Mesa-based El Pollo Loco Holdings Inc. is down 7.5% to $38.10 and a market cap of $1.37 billion on profit-taking after its IPO last week. The stock, which was priced at $15 for its initial offering 10 days ago and nearly tripled in its first week, closing Friday at $41.20.
EDUCATION
Santa Ana-based Corinthian Colleges Inc. is down 10.4% to $0.18 and a market cap of $16 million—its lowest value in the last month. The dropoff came after ITT Educational Services said late Friday that its planned $119 million sale leaseback deal fell through and lenders had to provide funding for it to stay afloat. Corinthian is trying to sell and wind-down its business.