Kaiser Aluminum Earnings Up for Q1
Thursday, April 24, 2014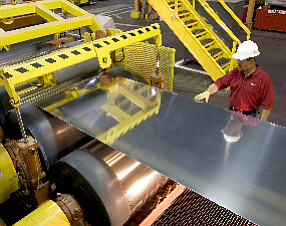 Kaiser Aluminum Corp. reported first-quarter earnings of $0.85 per share after market hours Wednesday, coming in slightly above analyst estimates of $0.81 to $0.82.
Net income totaled $16 million compared with $34 million the Foothill Ranch-based maker of semi-fabricated aluminum products posted in the first quarter of 2013. Adjusted earnings for the most recent quarter were $13 million or $0.72 per share.
Revenue was $335 million for the quarter, down from $337 million a year earlier, but still beating analyst estimates of $320 million.
"Overall, our outlook for 2014 remains unchanged," Chief Executive Jack Hockema said. "We continue to anticipate the supply chain inventory overhang for aerospace plate will persist throughout 2014. While we expect modest improvement in our plate shipments this year compared to 2013, we will also continue to be impacted by pricing pressure on these products."
Shares of Kaiser Aluminum were off about 2% in afternoon trading Thursday to a market value of $1.28 billion.