Midday Stock Roundup
Tuesday, April 22, 2014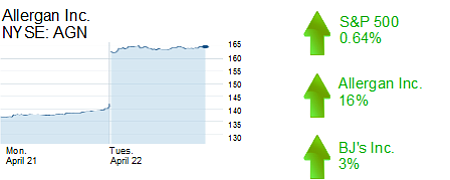 The S&P 500 rose 0.64% to 1,883.86 in afternoon trading Tuesday.
The Dow Jones Industrial Average was up 0.65% to 16,556.36, while the Nasdaq was up 1.08% to 4,165.97.
The yield on a 10-year Treasury bond was up 0.18% to 2.73%.
The price of gold fell 0.60% to $1,280.90 per ounce.
HEALTHCARE
Irvine-based drugmaker Allergan Inc. was up about 16% to $164.76 for a market value of $49.18 billion.
Canada-based Valeant Pharmaceuticals Inc. set its bid for Allergan at $47 billion.
Valeant was up about 8% to $135.50 for a market value of $45.37 billion.
RESTAURANTS
Huntington Beach-based BJ's Restaurants Inc. rose about 3% to $30.59 after the casual dining restaurant chain operator said it struck an agreement with a group of activist investors to nominate three directors to the board in addition to a $50 million share repurchase program. Wunderlich Securities raised its rating on the company's sstock from "hold" to "buy."
REAL ESTATE
Homebuilders were generally up on Tuesday, with Irvine-based TRI Pointe Homes Inc. showing the biggest gain, a 4% increase to $16.32. TRI Pointe had a recent market value of $515.99 million.