Q1 Profit Up for Cal Republic Bank
Monday, April 21, 2014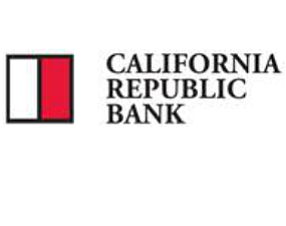 Irvine-based California Republic Bancorp announced first-quarter earnings of $3 million, compared with about $82,000 in the year-earlier period.
The boost came primarily on gains from a loan sale in March, when California Republic, which specializes in prime automobile loans, sold $223 million worth of notes backed by its loans. The bank notched a cash gain of about $4.6 million from the transaction.
It also grew its interest income in the first quarter to $9 million, up 48% year-over-year.
California Republic originated about $229 million in auto loans during the quarter, nearly double the amount in the year-ago period. Commercial-loan origination totaled $1.5 million, down about 30%.
It had about $486 million in loans outstanding as of the end of March, down about 3% year-over-year.
Total serviced loans, including those serviced for others, came to $1.2 billion, up 81%.
California Republic had $842 million in assets at quarter-end, an increase of about 29% from a year ago.
Deposits grew about 29% to $768 million, with noninterest bearing accounts making up 57% of its deposits base.