Midday Stock Roundup
Monday, April 7, 2014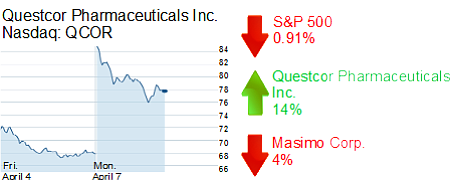 The S&P 500 was off 0.91% to 1,848.10 in afternoon trading Monday.
The Dow Jones Industrial Average fell 0.73% to 16,291.30, while the Nasdaq slipped 1.20% to 4,078.33.
The yield on a 10-year Treasury bond was down 1.25% to 2.69%.
The price of gold was off 0.48% to $1,297.30 per ounce.
Anaheim-based Questcor Pharmaceuticals Inc. opened with a big jump and shares remain up about 14% to $77.68 on news that Ireland-based Mallinckrodt PLC has offered $5.6 billion in cash and stock for the drug maker. Questcor had a recent market value of $4.6 billion.
Irvine-based medical device maker Masimo Corp. was down about 4% to $26.68 for a market value of $1.51 billion. The company said a study in the Journal of Monitoring and Computing of its Pleth Variability Index measuring device could help medical practioners manage fluids for abdominal surgery patients under anesthesia.