REAL ESTATE: FIRM IS PARTNER, MAIN TENANT IN 14-STORY TOWER
Knobbe Wants Resort Feel at Airport-Area Office
Sunday, September 22, 2013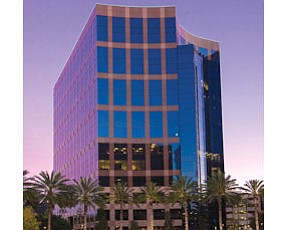 The goal of the changes is to get the building fully occupied again, according to Steven Nataupsky, managing partner of Knobbe Martens.
The firm employs nearly 170 lawyers in Orange County—the most of any law firm here—and is one of the country's largest intellectual property law firms.
Knobbe and its partners in 2040 Main LLC paid close to $106 million for the building in 2004. The LLC reportedly outbid Newport Beach-based Irvine Company to buy the building, which opened in 2002, with the law firm serving as its anchor tenant.
CMBS.com, a website that tracks the commercial mortgage-backed securities market, reports that 2040 Main LLC has a $67 million loan currently tied to the building, and that the owners are current on their loan payments. The website still lists the loan as being on its watchlist, presumably because of vacancy levels at the office.
There's been no indication that 2040 Main LLC is looking to sell the building, even with prices for other area office properties on the rise. A slightly larger office next door, at 2030 Main St., is expected to trade hands in the next month at a price in excess of $100 million.
Newport Beach-based Olen Properties owns a junior loan tied to the 2040 Main building, which it bought at a discount. The company isn't expecting to see the office on the trading block any time soon, said Igor Olenicoff, Olen's president.
"We would be pleased to own it at the amount of debt against the property, however, I am sure the current owners have no intention of letting it go," said Olenicoff, whose company owns the nearby Century Centre office complex on Main Street.
"We feel very secure in our position and certain that there will not be a default of any type," Olenicoff said last week.
Olen's junior loan has provided "quite a nice return," he said.
Prev Next