REAL ESTATE: FIRM IS PARTNER, MAIN TENANT IN 14-STORY TOWER
Knobbe Wants Resort Feel at Airport-Area Office
Sunday, September 22, 2013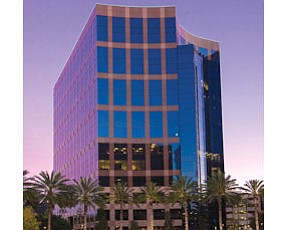 Knobbe Martens Olson & Bear LLP, Orange County's largest law firm by number of local attorneys, is looking to bring a touch of the resort lifestyle to the Irvine office tower that holds its headquarters.
Knobbe is the managing member of 2040 Main LLC, which owns the 307,000-square-foot office tower at 2040 Main St. It recently announced plans for a bevy of changes at the 14-story property as part of a bid to increase its occupancy rates.
Among the more notable changes at the building are plans to give tenants a resort-like experience in terms of amenities and customer service.
Expect to be treated to music and flavored spa-style water in the building's lobby, according to officials at brokerage Stream Realty Partners, whose Irvine office was recently selected to oversee the changes and provide leasing services.
Tenants also will have access to an executive assistant-style concierge, shuttles to nearby shopping areas such as South Coast Plaza, monthly tenant appreciation events, and other perks.
Even the scent of the office is expected to change, according to Colby Annett, co-managing partner of Stream Realty's Irvine office. Plans are to pipe in a resort-like fragrance in the building's lobby.
The goal is to "provide businesses with the next generation of service and the highest level of amenities in Orange County," said Annett, who runs the Irvine office of Stream Realty with his brother, Blaine Annett.
The leasing assignment is one of the more notable ones in the area around John Wayne Airport for Dallas-based Stream Realty, which opened its Orange County office in 2009.
The company—which only represents landlords in lease negotiations—is making a push to expand its presence in the area, especially as building owners re-evaluate strategies for leasing up their buildings amid the improving economy.
"We've found that more corporations want services such as (those planned at 2040 Main) as part of their office building experience," Colby Annett said. "Tenants want quality, luxury, service, and convenience."
CoStar Group Inc. records show the 2040 Main building, part of the Irvine Concourse office campus that sits next to the San Diego (405) Freeway, to be about 80% leased—a percentage slightly below the average for other high-end offices in the airport area. An additional floor of space at the building is expected to be vacated next year.
Monthly rents are listed at $2.35 per square foot.
Knobbe Martens occupies about 40% of the building and leases out the rest of the space. Other tenants include fellow law firm Clausen Miller LP, as well as Morgan Stanley Smith Barney LLC.
Prev Next