Wahlberg at Taco Bell HQ for Scholarships
Tuesday, September 17, 2013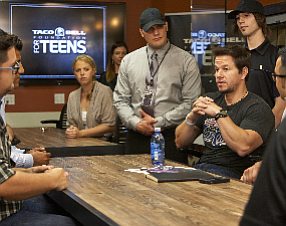 Actor Mark Wahlberg helped Taco Bell Corp. award scholarships to several employees at its headquarters in Irvine on Tuesday.
The effort cleared the way for the workers to earn high school diplomas—a requirement for promotion to management positions—and career certificates to support their professional development at fast-food chain.
Wahlberg, who dropped out of high school in ninth grade, recently completed his high school diploma through an online program based in his home state of Massachusetts.
"The greatest regret in my life is quitting school," he said. "I was lucky, but a lot of my friends who did the same ended up incarcerated or dead... I take any opportunity I can to speak to teens and encourage them, first and foremost, to graduate high school."
The Taco Bell employees will have chance to enroll in Career Online High School, an online learning program provided by ed2go in Stamford, Conn., and Smart Horizons in Pensacola, Fla.
The effort is run by Taco Bell Foundation Inc., also known as Taco Bell Foundation for Teens, a non-profit organization that has awarded more than $42 million since 1992 to teen-serving organizations in the U.S. through customer, franchisee, employee and vendor-partner donations.
"Mark Wahlberg reminds us all that it is never too late to go back to school and earn your diploma," said Taco Bell's President Brian Niccol, who also serves as chairman of the Taco Bell Foundation for Teens. "He is an inspiration to the Taco Bell leadership team to commit ourselves to doing everything we can to empower youth to do the same – starting with our own team members."
Taco Bell is a subsidiary of Louisville, Ky.-based Yum! Brands Inc.