Midday Stock Roundup
Tuesday, September 17, 2013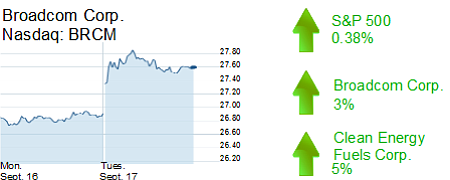 The S&P 500 rose 0.38% to 1,704.07 in afternoon trading Tuesday.
The Dow Jones industrial average was up 0.32% to 15,544.92, while the Nasdaq was up 0.58% to $3,739.31.
The yield on a 10-year Treasury bond fell 0.90% to 2.85%.
The price of gold was off 0.56% to $1,310.40 per ounce.
TECHNOLOGY
Irvine chipmaker Broadcom Corp. was up about 3% to $27.61 for a market value of $15.9 billion. Susquehanna Financial Group upgraded the company's stock from "neutral" to "positive."
CLEAN TECHNOLOGY
Newport Beach-based Clean Energy Fuels Corp. rose about 5% to $13.05 for a market value of $1.2 billion. The company said in a filing with the Securities and Exchange Commission on Monday that it raised $213.4 million in a private offering that will be used for capital expenditures and general corporate purposes.
HEALTHCARE
Mission Viejo-based healthcare services company Ensign Group Inc. was up about 2% to $41.17 for a market value of $903 million. Analysts at Oppenheimer last week reiterated an "outperform" rating on the company's stock.