KBS TO MOVE TO PACIFIC FINANCIAL PLAZA IN 2014
Offices to Be Vacated by Pimco Getting Scooped Up
Sunday, September 8, 2013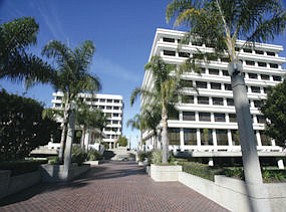 LBA Looks to Raise Funds
Irvine-based real estate owner and investor LBA Realty is looking to raise money for another real estate investment fund.
Regulatory filings with the Securities and Exchange Commission in late August show the company, one of Orange County's more opportunistic buyers of real estate in the past five years, preparing to launch LBA Realty Fund V LP, a pooled investment fund.
The SEC filing doesn't disclose how much privately held LBA is looking to raise in the offering. Its last fund of the type, LBA Realty Fund IV, raised $736.2 million about four years ago.
Since that fund closed, LBA has bought a bulk of Irvine's Park Place mixed-use campus and a portfolio of OC industrial properties from Los Angeles-based Kilroy Realty Corp., among other prominent deals. It's unknown whether it used the money raised from LBA Realty Fund IV or from other financing to fund those purchases.
Tire Co. Expansion
Aliso Viejo-based CT Realty Investors has a redevelopment plan in the works for an industrial building it just bought in Rancho Cucamonga.
The real estate investor and developer last month paid $9 million for the 138,595-square-foot Inland Empire building. It was sold by logistics company Waitex International Ltd., which will lease back the property under a short-term deal.
CT Realty, once the lease with Waitex expires, plans to redevelop the building and an adjoining 177,550-square-foot property that it bought last year for about $10.2 million. It leases the larger building to GiTi Tire USA Ltd., which uses the property for storage and distribution of automobile and truck tires.
GiTi Tire plans to occupy both buildings under a long-term lease once the redevelopment is completed.
Prev Next