Midday Stock Roundup
Thursday, September 5, 2013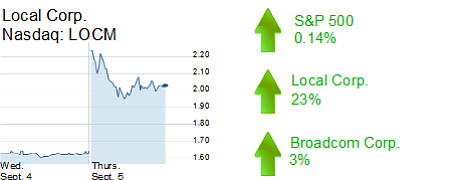 The S&P 500 rose 0.14% to 1,655.35 in afternoon trading Thursday.
The Dow Jones Industrial Average was up 0.07% to 14,941.74, while the Nasdaq was up 0.19% to 3,656.08.
The yield on a 10-year Treasury bond rose 2.76% to 2.98%.
The price of gold was off 1.33% to $1,371.50 per ounce.
MEDIA
Investors sent shares of Irvine-based online media company Local Corp. up about 23% to $2.02 after the company said it inked a deal to provide local search results data to Microsoft Corp.'s Bing search engine. Local had a recent market value of $46.21 million.
TECHNOLOGY
Irvine-based chipmaker Broadcom Corp. was up about 3% to $26.83, a day after announcing its plan to purchase the LTE, or long term evolution, technologies of Japan-based Renesas Electronics for $164 million. Broadcom had a recent market value of $15.53 billion.
RESTAURANTS
Huntington Beach-based BJ's Restaurants Inc. rose about 2% to $31.39 for a market value of $885.01 million. Restaurant operators were generally up on Thursday.