Midday Stock Roundup
Wednesday, October 30, 2013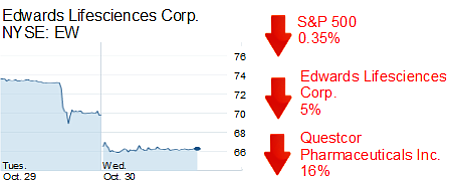 The S&P 500 was down 0.35% to 1,765.83 in afternoon trading Wednesday.
The Dow Jones Industrial Average slipped 0.20% to 15,648.63, while the Nasdaq fell 0.44% to 15,648.63.
The yield on a 10-year Treasury bond was off 1.16% to 2.48%.
The price of gold rose 0.33% to $1,350 per ounce.
HEALTHCARE
Edwards Lifesciences Corp. was off about 5% to $66.32 for a market value of $7.45 billion. Canaccord lowered its price target from $94 to $76 following rival Medtronic's announcement Tuesday that it saw lower rates of death or major stroke in a clinical trial of its CoreValve system. On Monday, Edwards released its earnings forecast for the current quarter that came in lower than Wall Street analyst estimates.
Shares of Anaheim drug maker Questcor Pharmaceuticals Inc. continued to slide and were down about 16% to $58.24. The company said a U.S. Justice Department investigation into the company's promotional practices for its H.P. Acthar Gel now includes the U.S. Attorney's office for the southern district of New York and the Securities and Exchange Commission's Los Angeles office. Questcor had a recent market value of $3.43 billion.
TECHNOLOGY
Costa Mesa-based printed circuit board maker TTM Technologies Inc. shares were off about 3% to $9.91 for a market value of $818.84 million. The company is expected to release its third-quarter results after market close Wednesday.
CLEAN TECHNOLOGY
Shares of Lake Forest-based Quantum Fuel Systems Technologies Worldwide Inc. dipped about 19% to $5.97 for a market value of $89.28 million. The company is trading on unusually high volume, about seven times its average. Quantum's shares are still up more than 150% since the start of the year.