JWA September Traffic Rises 3%
Tuesday, October 29, 2013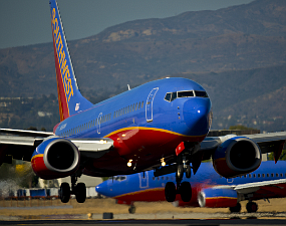 Total passenger traffic at John Wayne Airport was 728,971 in September, up 3% from a year earlier.
International traffic at the airport during the month jumped 30.5% to 27,837.
Southwest Airlines, the airport's busiest airline, served 296,756 passengers during September.
Southwest flies to Denver, Houston and Las Vegas among other places from JWA.
The company's subsidiary AirTran Airways also has routes to Cabo San Lucas, Mexico City and San Francisco.
United Airlines was the next busiest airline (128,550) followed by American Airlines (87,485).
Air cargo at JWA was up 1.8% to 1,544 tons.