Sanuk Q3 Sales Up, Set to Expand Action-Sports Presence
Monday, October 28, 2013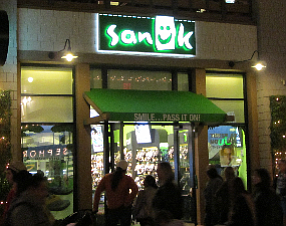 Irvine-based Sanuk USA LLC saw modest sales growth in the September quarter, driven by several factors including gains in the company's global wholesale business.
The shoe and apparel company is part of Goleta-based Deckers Outdoor Corp. and had sales during the quarter of $18.4 million, up 0.5% from a year earlier.
Deckers Chief Executive Angel Martinez told analysts in a call after market close Thursday that Sanuk has been successfully expanding its line of closed-toe shoes for men with strong sales in department stores.
Yoga products on the women's side have also helped boost sales, Martinez said in the call.
He added that the Sanuk brand has a wide runway for growth among retailers, particularly in the action-sports segment with chains such as Irvine-based Tilly's Inc. and Pacific Sunwear of California Inc. in Anaheim.
"We believe that Sanuk is in a unique position to be one of the only handful of brands that can successfully slide in such a broad range of major retailers, a position we'll continue to successfully leverage in the years ahead," Martinez said during the call.
Deckers paid $120 million for Sanuk in 2011 and also owns footwear brands Ugg and Teva.
Deckers saw overall sales up 2.7% during the quarter to $386.7 million. The company's net income fell to $33.06 million in the quarter, from $43.06 million a year earlier.
Deckers shares fell back about 2% on Monday to a market value of $2.36 billion, after closing up about 20% on Friday.