Microsemi Corp. to Buy Bay Area Company
Tuesday, October 22, 2013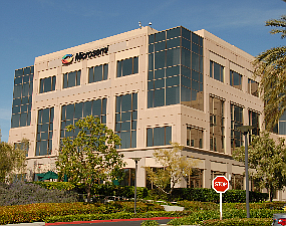 Microsemi Corp. is set to acquire a San Jose company that specializes in timing technology for $230 million, the Aliso Viejo chipmaker announced Tuesday.
The cash tender offer of $7.18 for Symmetricom Inc. represents a 49% premium of its common stock over 90 trading days through Oct. 18.
The deal, which has been unanimously approved by each company's board, is expected to close within the first three months of 2014.
Microsemi projects the acquisition to add $0.22 to $0.25 in earnings in 2014.
Under the terms of the agreement, Symmetricom may solicit bids from third parties during a "go shop" period through Nov. 8. If another buyer outbids Microsemi during the period and acquires Symmetricom, Microsemi will receive an undisclosed amount in termination fees.
Financial adviser Jefferies LLC is assisting Symmetricom during the process.
Microsemi is being represented by Morgan Stanley and Los Angeles-based O'Melveny & Myers LLP in the negotiations.
Symmetricom's time-keeping technology is used in military and public networks, GPS satellites and other technology.
It targets various industries, including aerospace and IT infrastructure, among others.
The company has about 500 employees, primarily in San Jose and Massachusetts.
Symmetricom posted a $2.7 million loss on $210.9 million in revenue in the 12 months through June, the end of its fiscal year. Its shares are up 50% in afternoon trading on word of the deal to a market value of about $296 million.
Investors sent Microsemi shares up 3.5% in afternoon trading to a market value of about $2.47 billion.