Midday Stock Roundup
Wednesday, October 16, 2013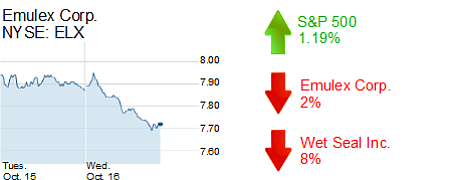 U.S. markets rose on a Senate deal struck Wednesday that would raise the debt ceiling and end the government shut down.
The S&P 500 rose 1.19% to 1,720.17 in afternoon trading Wednesday.
The Dow Jones Industrial Average was up 1.21% to 15,351.07, while the Nasdaq was up 1.10% to 3,835.76.
The yield on a 10-year Treasury bond slipped 0.48% to 2.71%.
The price of gold rose 0.34% to $1,277.50 per ounce.
TECHNOLOGY
Costa Mesa networking equipment maker Emulex Corp. was off about 2% to $7.69 for a market value of $702.91 million. A report from Reuters on Monday raised doubts about the company's potential sale, saying talks with private equity firms have yet to yield an offer.
RETAIL
Shares of Foothill Ranch-based teen and contemporary retailer Wet Seal Inc. slid about 8% to $3.55, a day after the company lowered its guidance for the November quarter on what is turning out to be a highly promotional environment for many retailers as they head into the important holiday selling season. Wet Seal had a recent market value of $300.34 million.
Retail Metrics Inc. estimated same-store sales growth of 2.3% in September for the 10 U.S. retailers it tracks, missing the consensus estimate of 3.4%.
Anaheim-based action-sports retailer Pacific Sunwear of California Inc.'s shares were also off by about 6% to $2.71 for a market value of $185.47 million.
HEALTHCARE
Anaheim-based drug maker Questcor Pharmaceuticals Inc. continued to rise, up about 5% to $66.20 for a market value of $3.9 billion. The company's stock is up about 10% so far this week and more than 150% since the start of the year.