Midday Stock Roundup
Thursday, October 3, 2013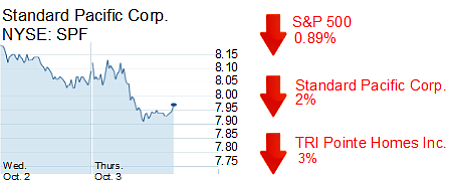 U.S. stocks continued to fall as the partial government shutdown continued for the third day.
The S&P 500 fell 0.89% to 1,678.73 in afternoon trading Thursday.
The Dow Jones industrial average was down 0.87% to 15,001.68, while the Nasdaq was off 1.15% to 3,771.17.
The yield on a 10-year Treasury bond slipped 0.88% to 2.60%.
The price of gold fell 0.28% to $1,317 per ounce.
REAL ESTATE
Homebuilders were generally down on Thursday.
Shares of Irvine-based TRI Pointe Homes Inc. were off about 3% to $14.28 for a market value of $451.21 million.
Irvine-based Standard Pacific Corp. was down about 2% to $7.94 for a market value of $2.76 billion.
CLEAN ENERGY
Shares of Newport Beach-based Clean Energy Fuels Corp. fell back about 6% to $13.03 after rising 6% over the past two days. Clean Energy had a recent market value of $1.16 billion. The company said Thursday it will distribute its new Redeem natural gas vehicle fuel.