Midday Stock Roundup
Wednesday, November 20, 2013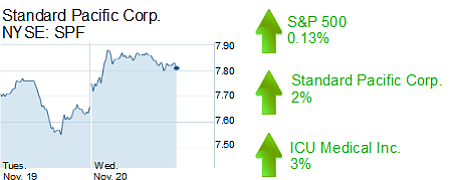 The S&P 500 was up 0.13% to 1,790.25 in afternoon trading Wednesday.
The Dow Jones Industrial Average rose 0.09% to 15,981.75, while the Nasdaq rose 0.26% to 3,941.94.
The yield on a 10-year Treasury bond was up 1.66% to 2.76%.
The price of gold was off 1.22% to $1,257.90 per ounce.
REAL ESTATE
Irvine-based homebuilder Standard Pacific Corp. was up about 2% to $7.82 for a market value of $2.71 billion.
TRI Pointe Homes Inc., also in Irvine, was up about 2% to $18.87 for a market value of $596.24 million.
Homebuilders were generally up on Wednesday. The National Association of Home Builders/Well Fargo Housing Market Index showed a steady outlook from homebuilders in November after falling the past couple of months.
HEALTHCARE
San Clemente-based medical device maker ICU Medical Inc. was up about 3% to $63.27 for a market value of $932.22 million. Director George Lopez sold 15,000 shares of the company's stock priced between 61.22 and 62.88 this week. Lopez stepped down as chief executive last month.