Wet Seal Sees Quarterly Net Sales Decline
Thursday, November 7, 2013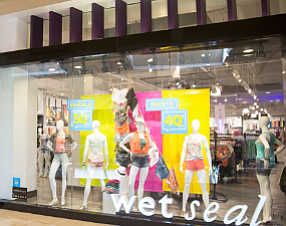 Foothill Ranch-based Wet Seal Inc. said Thursday that its net sales for the quarter ended Nov. 2 fell in what's shaping up to be a tough business environment for many retailers heading into the critical holiday selling season.
The teen and contemporary retailer operates the 471-store Wet Seal chain for teens and the 59-store Arden B chain for young women.
Companywide sales for the November quarter were $127.7 million, down 5.8% from a year earlier.
Both of the company's divisions had quarterly net sales declines, weighed down by a 27.5% fall for Arden B to $12.8 million.
The Wet Seal division had net sales of $114.9 million, down 2.6% from a year earlier.
Sales of stores open at least a year were up nearly 1%, an improvement from the 13.5% same-store sales decline that marked the year-ago period.
The gain was led by a 1.7% comparable sales increase for the Wet Seal business, compared with a 13.5% slump a year earlier.
Meantime, Arden B's same-store sales fell 6.7% for the quarter, narrowed from the 13.8% decline in the year-ago period.
"We were able to deliver positive comp store sales and significantly improved merchandise margins versus a year ago despite the extremely tough retail environment," Chief Executive John Goodman said in a statement.
The company also said it switched to new e-commerce platforms for the Wet Seal and Arden B websites that it said should allow for a smoother ordering process from customers' mobile devices.
E-commerce sales for the company fell 19% in the November quarter, with the switch to the new website platforms partially to blame, the company said. That compares with an 8.7% increase in the year-ago period.
Wet Seal said it now expects a $10.3 million loss for the November quarter, coming in at the high end of previously announced guidance of a loss between $8.6 million and $10.3 million.
Wet Seal warned investors last month that it expected a greater loss than previously stated guidance as a result of a softening of foot traffic in September and October.
Wet Seal shares closed up about 2% on Thursday to a market value of $274.50 million.