CSUF, Ad Agency Start Communications Center
Wednesday, November 6, 2013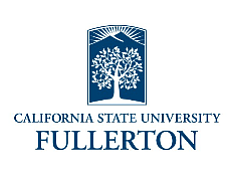 The College of Communications at California State University Fullerton has partnered with DGWB Advertising & Communications in Santa Ana to form the Center for Brand Values Communication and Research at CSUF.
The center will study "the link between brand values, corporate communications and resulting consumer trust" to help organizations maximize the effectiveness of their communication efforts.
Center directors Mark Guohua Wu, CSUF associate professor of communications, and Patty Malone, CSUF associate professor of organizational communication, will lead the effort, along with Mike Weisman, founder of the Values Institute at DGWB, a social entrepreneurialism think tank based at the agency's headquarters in Santa Ana.
The center will focus on conducting research and engaging in educational outreach.

The research component will be executed through a proprietary TrustPulse Survey model, which will help the center's researchers determine the most "trustworthy" brands nationally and internationally.
The center will also gather data to develop a Trust Index, which will measure the abilities of organizations to gain and maintain trust, loyalty and satisfaction from employees and consumers. It will publish an annual list of organizations that have performed well against statistical averages.
"The new center … allows us to link the shared-values work we've been doing with Fortune 500 companies to relevant curriculum and research at the university level," Weisman said in a news release. "For the first time since starting this conversation in the 1980s, we can now make a classroom-to-boardroom connection. The result is a growth in brand trust and shared values-based communications management as an even more legitimate field of study and practice."

The center on the outreach side will develop a curriculum for a professional studies program geared toward mid-managers who want to become certified in applying the principals of brand values and communication.
It will also assist with creating a list of preapproved companies who "demonstrate a cutting-edge brand values operation," where CSUF interns will receive "real-time, hands-on experience to supplement classroom teachings."
"Given the current underpinning of values in the millennial generation, universities have the responsibility for graduating a workforce that understands the importance of brand values communications and research, not only to the bottom line but to the societal good," William Briggs, dean of the CSUF College of Communications, said in a news release. "The new center brings together the best research, industry experience and resources to enable us to lead what is clearly a long-term, national trend."