Mindspeed Set for Sale, Reports Mixed Earnings
Tuesday, November 5, 2013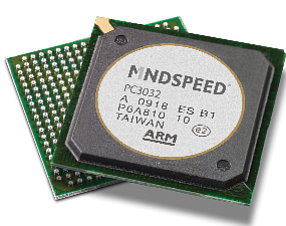 Shares of Mindspeed Technologies Inc. skyrocketed in after-hours trading Tuesday after the Newport Beach-based chipmaker announced it will be acquired for $272 million by a Massachusetts competitor and will sell its wireless business to an unnamed strategic buyer.
Investors sent shares up more than 68% in extended trading to a market value of $128.8 million on word that Lowell-based M/A-COM Technology Solutions Holdings Inc. expects the deal to close this year.
The boards of both companies have approved the transaction.
The tender offer represents a 66% premium of Mindspeed's common stock at the close of trading Monday.
Mindspeed said it's in "advanced discussions" with a strategic buyer to sell its wireless business and that that process won't impact the M/A-COM deal.
Mindspeed makes chips for routers, switches and other networking gear.
The pending sale comes about seven months after Mindspeed hired Morgan Stanley as a financial adviser "to assist the board of directors in evaluating various strategic alternatives."
The company had met several milestones in the turnaround plan it laid out about a year ago, which included reaching operating profitability, boosting sales in its high-performance analog business, and ramping up production of small cellular base stations.
Mindspeed said its recently concluded strategic review led to an outcome that maximized shareholder value while positioning the combined companies with "very strong technology platforms in the analog industry and deep customer relationships," according to Chief Executive Raouf Halim.
Mindspeed on Tuesday also announced mixed financial results for the September quarter, the end of its fiscal year.
The company posted revenue of $36 million, flat from a year ago and in line with Wall Street expectations.
Adjusted profits topped $874,000 compared to a $2.6 million loss a year ago and beating analyst estimates of an adjusted loss of about $860,000.
Mindspeed revenue hit $145.4 million in the 12 months through September, up 3.5% from the same period a year earlier.
M/A-Com Technology shares are trading flat in Tuesday's after-hours session, with a market value of about $772.5 million.