Wet Seal CEO Says Business is 'Stabilized'
Wednesday, May 29, 2013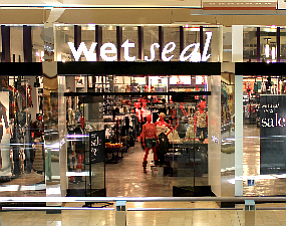 Investors sent shares of Foothill Ranch-based teen and contemporary retailer Wet Seal Inc. up in afternoon trading Wednesday, a day after the company provided a rosy outlook for the current quarter.
Wet Seal shares were up about 10% to a market value of $445.72 million on Wednesday. The company released results of its first quarter ended May 4 after the market closed on Tuesday.
Wet Seal is the operator of 464 Wet Seal stores for teens and 62 Arden B stores aimed at young women.
The company has been trying to turn around its business over the past several years under a number of leaders, but new efforts under Chief Executive John Goodman may be sticking. The company is focused on a fast-fashion strategy, has made cuts in its workforce to increase operational efficiencies, and last month hired a new leader for its Arden B division.
Wet Seal said it expects earnings to range from flat to $2.07 million in the current quarter.
Analysts had expected a loss of $2.07 million for the current quarter.
Wet Seal also beat analysts on its net sales guidance for the current quarter, which are expected to be between $138 million and $141 million.
That's up from year-ago net sales of $135.3 million and consensus estimates of $132.06 million.
The company also said it expects same-store sales to be up in the mid-single digits, a reversal from the 11.1% decline seen a year ago.
"We have effectively stabilized the business," Goodman said in a statement. "We are seeing an increasingly strong response to our product offerings and customer engagement strategies, while at the same time, we have closely managed inventory and significantly improved our merchandise margin. We believe the company has the people, processes and brand strength to enable us to begin driving consistent performance, and we are enthusiastic about the opportunity to better position both Wet Seal and Arden B for long-term growth."
The guidance followed Wet Seal's May quarter results, which also beat Wall Street analyst estimates.
The retailer saw net income of $3.1 million and adjusted net income of $1.3 million.
Analysts had expected net income of $1.03 million.
Net sales for the May quarter were $140.4 million, above the $137.2 million analysts expected.
Same-store sales for the quarter were down 2.9%. The Arden B division saw nearly 1% growth in comparable sales, while the Wet Seal division saw comparable sales fall 3.4%.