PacSun Pop-Up To 'Tackle Other Coast'
Sunday, May 26, 2013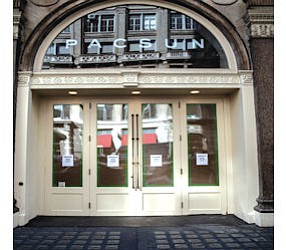 Anaheim-based Pacific Sunwear of California Inc. has picked New York's SoHo shopping district for its first-ever pop-up shop, a move that follows better-than-expected first-quarter results.
The company last week announced its fifth-straight quarter of same-store sales growth in the quarter ended May 4, up 2%.
Pacific Sunwear provided guidance for the current quarter of earnings ranging from a $3.4 million loss to a $1.3 million profit. That's narrowed from a $6.04 million loss in the year-ago period, with the lower-end of the range up from the $2.7 million loss analysts expect.
The company also said it expects revenue of $209 million to $219 million for the current quarter. Wall Street analysts expect revenue of $198.33 million.
The quarterly results sent PacSun shares up 12% late last week to a market value of $222.94 million.
The SoHo pop-up shop had a soft opening May 18 and held an official grand opening over the Memorial Day weekend. It will remain open through the summer.
"There are two things we wanted to do," Chief Executive Gary Schoenfeld told the Business Journal. "The first was showcase the best of PacSun and our industry, and secondly, we wanted to tackle the other coast and go to, really, the most influential dot on the map, which is the heart of SoHo in Manhattan."
Stores
PacSun had 638 stores at the end of its May quarter and nearly 30 stores in the state of New York.
The SoHo store is about 10,000 square feet, compared with an average of about 4,000 square feet for standard PacSun stores.
The company is not considering additional pop-up shops at this time, Schoenfeld said.
"The first step really was to create excitement in the Northeast and bring our authentic California lifestyle to the East Coast in a way that our industry has never really done before, and that's the sole focus in terms of this store at this point in time," Schoenfeld said. "What we might learn and what we choose to do after that will be determined."
Many of the brands carried in PacSun stores will be played up through individual displays in the SoHo store. Every two weeks a different brand will be showcased in space near the front of the store. The first of those brands is Rook, which has created a mural in a space of about 30 feet.
Schoenfeld sees the pop-up as a key transition in the next phase of Pacific Sunwear's turnaround.
"I think it's going to help accomplish one of my other key objectives in coming to PacSun," he said. "Much like when I was at [Cypress-based skate company] Vans, which was also a turnaround, we didn't look to just catch up to the other skate brands. We wanted to really elevate and lead the market, and I think what we've done in SoHo is truly bring out the best of our industry in a way that I think is really going to open customers' eyes to our brand and our lifestyle and help grow our market as compared to all of the vertical retailers that had gained so much market share over the past five to 10 years."