REDOS, NAME CHANGES, NEW SERVICES POLISH IMAGES
Hotels, Freer in Economic Recovery, Open Wallets
Sunday, May 26, 2013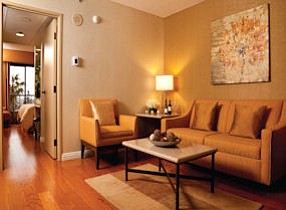 Hiring, Rate Trends
Hiring has also remained about flat for the 12-month period ended in April, with the largest hotels collectively employing 13,665 workers.
That's not to say all hotels have been on a hiring freeze.
Hilton Anaheim, which still has the No. 1 position on the list, went on a hiring spree with an April job fair. The first such event at the property in several years drew some 400 applicants by midday.
Hilton Anaheim Assistant General Manager Sergio Bocci said the fair was "successful for us, and we'd do it again," with 21 offers made so far for hourly positions across various departments.
The hotel had 51 jobs to offer the day of the fair and expects to fill the rest of those positions, Bocci said.
"Business in general is pacing as we've expected," he said. "It still looks to be a good year, and things are looking up."
Regular bookings at Hilton Anaheim are on pace to be up about 5% this year, Bocci said. Group bookings have recently seen a slight softening.
The strength of the local business environment is reflected in rising rates.
Thirty properties reported their starting nightly rates to the Business Journal, and 19 of them raised rates from a year ago—the highest number of increases since the recession. Eleven held rates steady.
Luring Luxe Guests
Little to no new competition has made it easier for some properties to focus efforts on attracting guests.
No. 18 St. Regis Monarch Beach restyled its lobby lounge to attract what it calls the "Gen Luxe" guest.
The term refers to a new type of customer—the young professionals, whom Director of Sales and Marketing Brad Doell described as having "not extreme wealth, but luxury tastes for living a high-society lifestyle."
The lobby, which reopened in December after a $1.4 million remodeling, features natural light, wall sconces, hardwood floors and larger seating areas to accommodate groups.
Gen Luxe guests still expect the typical qualities of a five-star hotel like St. Regis, Doell said, but they "enjoy life a bit differently."
He pointed to a greater interest in spa services and renting cabanas while ordering bottle service as examples of services past St. Regis generations may not have been as comfortable using.
"Gen Luxe is interested in high-influence, high-impact services and scenes," Doell said. "They also do love to be pampered."
---
Download the 2013 OC's LARGEST HOTELS list (pdf)
Prev Next