PacSun Pop-Up Brings Brand to SoHo
Thursday, May 23, 2013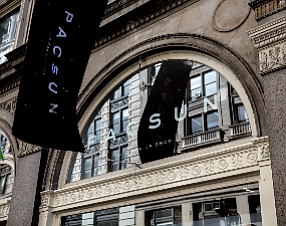 Anaheim-based Pacific Sunwear of California Inc. has picked New York's SoHo shopping district for its first ever pop-up shop, a move that follows better-than-expected first-quarter results.
The shop had a soft opening May 18 and will hold an official grand opening beginning Saturday with live DJs throughout the Memorial Day weekend.
The company saw its fifth straight quarter of same-store sales growth in the May quarter, up 2%.
Pacific Sunwear provided guidance for the current quarter of earnings ranging from a $3.4 million loss to a $1.3 million profit. That's narrowed from a $6.04 million loss in the year-ago period, with the lower-end of the range up from the $2.7 million loss analysts expect.
The company also said it expects revenue of $209 million to $219 million for the current quarter. Wall Street analysts expect revenue of $198.33 million.
The guidance followed better-than-expected May quarterly results on its adjusted loss and net sales, which sent shares up as much as 19% in after-hours trading Wednesday.
PacSun shares were up about 12% in afternoon trading Thursday to a market value of $222.94 million.