Reports: Former GM Exec in Bid for Fisker
Tuesday, May 21, 2013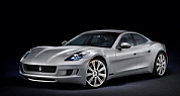 A startup automaker led by a former General Motors Corp. executive is reportedly in talks on a possible deal to buy struggling Fisker Automotive Inc.
The Anaheim-based luxury hybrid automaker shed most of its local workforce last month after separate sale talks with other prospective buyers stalled in March.
Fisker's founders were called in to testify before a congressional subcommittee last month. The hearing focused on the automaker's $529 million Department of Energy loan of which Fisker received $192 million before the loan was suspended in 2011 for missed production and sales milestones on its sole model the Karma sedan.
VL Automotive, which is led by Bob Lutz, and China-based Wanxiang Group have now reportedly put in an offer to buy Fisker if it were to file for Chapter 11 bankruptcy.
Lutz is the former vice chair of General Motors Corp.
VL Automotive had earlier this year unveiled its Destino sedan at the Detroit Auto Show in January. The Destino combined a modified Karma body with the gasoline-powered engine of a Chevrolet Corvette.