Quiksilver Outlines Details of 'Improvement Plan'
Friday, May 17, 2013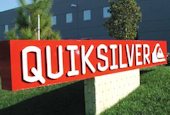 Huntington Beach-based action sports apparel maker Quiksilver Inc. released the details of what it's calling a "Multi-Year Improvement Plan."
The plan focuses on growth of the company's three core brands—Quiksilver, Roxy and DC—in addition to increasing sales and tightening up operations.
The company hopes the plan will about double its earnings before interest, taxes, depreciation and amortization to $300 million or so by 2016.
Quiksilver reported adjusted EBITDA for the 12 months through Oct. 31 of $153 million.
Quiksilver also said it hopes to see a compounded annual growth rate of 2.5% on revenue as the plan is carried out.
The company saw net revenue for fiscal 2012 up 3% from a year earlier to $2.01 billion, and an adjusted profit of $7 million.
Several new strategies have already been rolled out, including the appointments of executives to head up the company's footwear, apparel, supply chain, marketing and retail operations globally. The company also shuttered its VSTR and Quiksilver women's lines, while handing management of the Summer Teeth brand back to its owner.
Quiksilver said it intends to cut its inventory by more than 30% and plans to license what the company called "secondary or peripheral product categories." Chief Executive Andy Mooney had used beach towels during a call with analysts earlier this year as an example of the licensing opportunities for the Quiksilver and Roxy brands.

More details of the plan are expected next month when the company releases its second-quarter results.