Green Automotive Gets Stake in Electric Bike Company
Thursday, May 16, 2013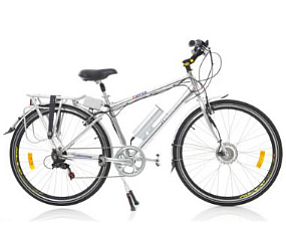 Newport Beach-based startup Green Automotive Co. has acquired a 30% stake in Powabyke EV Ltd., an electric-bicycle brand owned by Metroelectric PLC in the U.K.
Terms were not disclosed.
Green Automotive is a niche-vehicle design and manufacturing company, focused on electric cars. It operates through its shuttle bus division, Newport Coachworks Inc., in Riverside, and its Liberty Electric Cars Ltd. subsidiary in the U.K.
Publicly traded Green Automotive doesn't yet have revenue, but it recently got $3 million in funding from Newport Beach-based institutional investor Kodiak Capital Group LLC, shortly after acquiring Going Green Ltd., a U.K.-based electric-vehicle retailer.
"We believe the electric bike market is poised for substantial growth," said Ian Hobday, a director of Green Automotive and chief executive of Liberty Electric.
Hobday said Green Automotive expects to "be one of the early players" in the electric bicycle sector through Powabyke and to "add this to our California operations very shortly."