BIGGEST TURNOVER IN 21-YEAR HISTORY
OC 50: New Faces of Influence
Saturday, May 11, 2013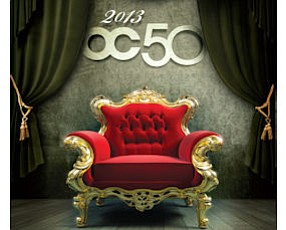 Deborah Proctor, who runs Orange-based St. Joseph Health System, which joined its four OC hospitals with Hoag Memorial Hospital Presbyterian to form Covenant—also debuts on this year's list.
Kimberly Cripe is another newcomer, based on her duties running Children's Hospital of Orange County, which opened a $560 million patient tower earlier this year.
Barry Arbuckle also made the list for the first time after a year that saw the MemorialCare Health System he oversees pursue a number of strategic initiatives, including the $34 million purchase of a new headquarters in Costa Mesa.
This year's OC 50 added a couple of members in the finance category, although neither started there. Vinny Smith made the list after his sale of Quest Software brought him $800 million or so for his stake, lifted him into the ranks of OC billionaires, and led him to start Toba Capital, a venture capital firm that targets the "next generation of IT infrastructure."
Paul Merage, who made his fortune in the food business, also is new to the list this year—an inclusion based on his widespread involvement in OC's business and civic life, and has likely been overdue for some time.
Wing Lam, cofounder of Wahoo's Fish Tacos, made the list as a representative of a quintessential OC brand that's been built on links to the local surfwear industry and shows no signs of slowing down. Neither does Lam himself, who is broadly engaged in philanthropy and other community links here as he expands the chain nationally and globally.
Gary Jabara debuts on the OC 50 as a real estate executive, even though there's a decidedly high-tech aspect to the operations that brought him one fortune and look to be laying the groundwork for another.
Another newcomer in the real estate category is Bill H. Lyon, son of Gen. William Lyon and chief executive of the homebuilder that bears his father's name (see related story, page 3).
The younger Lyon points up the relative youth of most of the newcomers on this year's list. First-timers average about 50 years of age—approximately 10 years below the average for the overall list.

Bill H. Lyon, at 39, is the youngest of all listed. His dad shares honors for the top of the age chart with Henry Segerstrom, both at 90.
Age is mostly an afterthought when it comes to the OC 50, where spots are earned with actions and achievements that help shape the local landscape. Turn to page 29 for the start of a special section that includes profiles on this year's entries. n
Prev Next