APPAREL: CAMPAIGN FOR TRAINING GEAR TARGETS FEMALES AS GROWTH MARKET
Oakley's Not Just About Sunglasses—Or Men
Saturday, May 11, 2013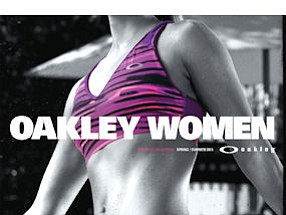 "They're going to have sales associates that are going to respond better and speak to them and not have the rhetoric of speaking to a guy or selling a [pair of sunglasses] to a guy," Perreault said. "They will address the needs of her in the store."
Five Oakley stores—the Irvine Spectrum location included—are also testing different floor plans with dedicated space for women's products.
All of the changes, though they may use eyewear as a stepping-off point, focus on women's needs.
"It's not about the high specs of our glasses," Perreault said. "We care about performance, but what's the benefit that speaks to her, and how do we translate that at the sales level, and that's the shift we've been doing in the last year, and it's doing well."
Oakley executives say they haven't decided whether to roll out a new floor plan to all of the company's stores.
"360" Approach
And while sunglasses and bras require different marketing strategies, it still wants to sell both to women. So the new campaign also includes Oakley's core optical business as part of the company's "360 approach" to marketing, Perreault said.
"When we market to women, we're going to market the whole story: optical and training, because when she goes out, we want her to dress in the whole gear," she said. "We're not going to launch one story only for sun and one story only for apparel. We're trying to paint the big picture that we're in all those categories for the women's side."
Oakley introduced five women's sunglasses styles last month, plus a pair called Unstoppable exclusively for Sunglass Hut stores.
"The sport shoe industry has done a great job teaching people that they need a pair of shoes for anything that they do," Perreault said. "In the sunglass industry, we need to be as good as them. … We have great positioning and a great story to tell, and people need to be aware that we're doing product for women, and that's our biggest challenge. They all think we're a male brand, but we have so much opportunity."
Prev Next