APPAREL: CAMPAIGN FOR TRAINING GEAR TARGETS FEMALES AS GROWTH MARKET
Oakley's Not Just About Sunglasses—Or Men
Saturday, May 11, 2013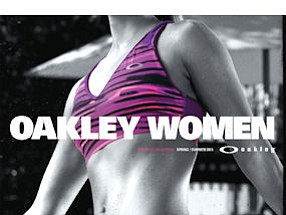 "If you look at activewear in general, it's growing twice as much as the fashion industry right now," she said. "Everybody's playing into it. What distinguishes us is that our access point is also through optics, through eyewear, which the other competition doesn't have."
Several local players have entered the mix in recent years. Huntington Beach-based Quiksilver Inc. has its Roxy Outdoor Fitness line. There's also Irvine-based O'Neill Clothing USA's O'Neill 365 line.
Oakley said it's focusing on the customer it describes as the "alpha female."
"We want to celebrate the women who are active," Perreault said. " 'We're not made for socializing but made for activewear. We're not made for trendy gear, but training gear.' "
Still, it aims to reach the average active woman more than jocks.
The Oakley customer "has that really good, active lifestyle without being an athlete," she said. "We don't want the extremes. We feel that woman influences a lot of women in the U.S., because a lot of people know a girl like that."
The recently launched campaign, created by Factory Design Labs of Denver, includes print ads in Shape and Fitness magazines, along with sponsorships of the Oakley New York Mini 10K and the Shape Diva Dash events. There's also an Oakley channel on music-sharing site Pandora; three YouTube videos; and a dedicated microsite on Oakley.com.
The campaign's cheeky language pokes fun at what it calls an "epidemic among us: women treating active products as leisure wear," one print ad reads. "They dress in workout tanks and yoga pants for coffee shops, school drop-offs and supermarket aisles…. wearing performance products to do everything but perform."
Perreault said the company aims to be disruptive and stick out from other lines competing for the same dollar. It's a departure from its previous campaign tag line, "Performing Beautifully," which also focused on performance but wasn't as bold of a message, she said.
The campaign, in addition to ads, includes expanding the training line to more stores. Oakley sells the line on its website and in company-owned stores, along with independent retailers. In the fall, it will expand it to Pennsylvania-based Dick's Sporting Goods.
"Right now, our strategy that we launched this year is to focus in North America, because we want to win in our own backyard," she said.
The retooled activewear message is in line with testing the company started about a year ago at the retail level, including more training for associates on how to sell to female customers.