COST ONE OF HIGHEST PER ACRE FOR HOMES IN YEARS
$5.6M Per Acre for Land Parcel in Newport Center
Saturday, May 11, 2013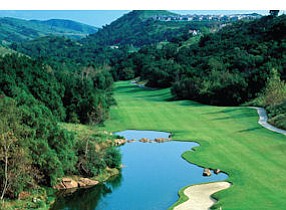 The New Home Co. and its development partner have paid top dollar for the land slated to hold the high-end Meridian housing project in Newport Center, according to the property's seller.
Bethesda, Md.-based Host Hotels & Resorts Inc., owner of the Newport Beach Marriott Resort and Spa, said this month that it sold the roughly 4-acre parcel of land next to the hotel for $24 million.
Aliso Viejo-based New Home and its partner in the 79-home Meridian project, Hillwood West, a unit of Dallas-based developer Hillwood, closed on the land sale last month, according to Host Hotels.
The sale works out to a price of about $5.6 million an acre. That's one of the highest reported prices on a per-acre basis paid in years for housing-entitled land in Orange County.
New Home, by comparison, reportedly paid close to $50 million for its 50-acre Lambert Ranch site in North Irvine in 2010.
Land entitled for homebuilding has recently been trading for more than $2 million an acre on Irvine Company-owned property at the Irvine Ranch and close to $2 million an acre for land farther south owned by Rancho Mission Viejo LLC, according to brokerage data.
Host said it recognized a gain of about $21 million in the sale of the Newport Center land, the former site of a tennis club that overlooks the Newport Beach Country Club.
Meridian, which held its official groundbreaking this month, is the first for-sale housing project to go up in the area surrounding the Fashion Island shopping center in more than 20 years.
Prices for the one- and two-story residences at the project, which will run from 2,335 square feet to 3,905 square feet, are expected to start around $1.5 million.
Dove Canyon Sale
Dove Canyon Country Club, a golf course near Coto de Caza, has traded hands for an undisclosed price.
Pacific Links International, a Canadian-based golf course owner and operator that's said to be owned by one of China's wealthiest businessmen, bought the 874-acre country club last month from Sanyo Foods Corp. in Japan.
It's the 10th golf course for Pacific Links and its first buy in California.
Dove Canyon has the only private Jack Nicklaus-designed course in Orange County, according to the buyers. It's one of several area golf courses Sanyo Foods has owned over the past 30 years.
The seller said it expected Pacific Links to make some upgrades to the facility.
Prev Next