Wet Seal Up on Better-Than-Expected Sales, Revised Guidance
Thursday, May 9, 2013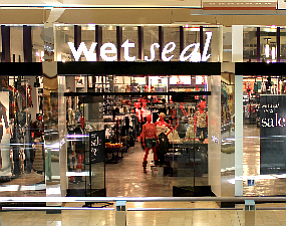 Shares of Foothill Ranch-based retailer Wet Seal Inc. rose on new guidance that projects a profit for the quarter ended May 4.
Investors sent Wet Seal's shares up about 5% in afternoon trading Thursday to a market value of $330.93 million on the news.
Wet Seal operates 464 Wet Seal stores for teens and 62 Arden B stores targeted to young women.
The company said same-store sales for the May quarter fell 2.9%, slightly less than original guidance forecasting a decline in the mid-single digits.
The retailer's May quarter sales fell 5% to $140.4 million.
The company's original guidance estimated sales of $135 million to $139 million for the period.
The quarterly results prompted Wet Seal to revise its earnings guidance for the May quarter in the range of flat to $888,593.
That compares with original guidance of a loss of $2.7 million to $5.3 million. Analysts on average had expected a loss of $3.6 million.
Improvements have been seen in both of the company's retail chains, Chief Executive John Goodman said.
"The customer is responding well and returning to the Wet Seal brand more quickly than anticipated, which has enabled us to stabilize the business and exceed our financial forecasts in the first quarter," Goodman said in a statement. "We are also making progress at Arden B, achieving slightly positive comps for the period. The improvements we've made year-to-date, along with the recent appointment of a new [general merchandise manager] for the division, make us optimistic that we can reinvigorate the Arden B brand."
The company brought on former bebe stores Inc. executive Tamara Chamberlain as general merchandise manager of the Arden B chain last month.
Both of the company's chains are in the midst of a turnaround, but the efforts were largely focused on the larger Wet Seal division under the previous executive team led by former Chief Executive Susan McGalla, who was fired in July. Goodman joined the company at the start of this year.
The company also said Thursday that it reached a $7.5 million settlement agreement related to a class action lawsuit filed last year against the retailer that alleged some African-American employees were targeted for termination or denied pay or promotions at some of the company's stores.
The agreement also requires the company to create new selection, interview and performance review policies among other actions in an effort to promote diversity.