JWA Rolls Out Expedited Customs
Wednesday, May 8, 2013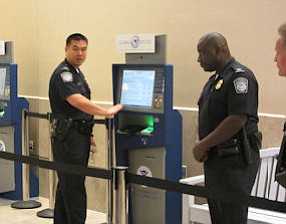 International passengers arriving at John Wayne Airport now have the option of participating in the U.S. Customs and Border Protection's Global Entry program.
Global Entry expedites Customs and Border Protection clearance through the use of kiosks, of which JWA now has two.
Global Entry kiosks have been installed at 34 airports in the U.S. since the program's official rollout last year.
Travelers apply for the program through Customs' website and pay a $100 application fee, which is good for five years.
Approved Global Entry members will also be enrolled in the Transportation Security Administration's PreCheck program, which came to JWA last year and is a similar expedited screening process for domestic travelers.
The clearance process through Global Entry takes 30 seconds to one-and-a-half minutes.
John Wayne sees about 500 international passengers arrive daily and currently offers service to Mexico through Interjet and AirTran and Canada through West Jet.
AirTran is expected to add a second daily flight to Cabo San Lucas between June and August. The airline currently flies daily to Cabo and Mexico City from JWA.