LOCAL BUYER ACQUIRES 1960S IL POMPEII COMPLEX
La Habra Apartments Change Hands for $19 Million
Sunday, May 5, 2013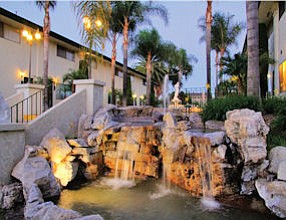 about an hour northwest of Washington, D.C.
The sale works out to a price of about $143,000 per unit for the complex, which sits on 16.3 acres of land.
The property was sold by a unit of Chevy Chase, Md.-based Federal Capital Partners, which bought the complex in 2009 for $28 million.
The KBS-Legacy Partners nontraded REIT had raised about $127 million from investors as of the end of 2012.
Costa Mesa Development
An apartment-investment fund run by Addison, Texas-based Behringer Harvard Holdings LLC said it's moving ahead with an investment for a planned apartment complex, across the street from The Triangle shopping center in Costa Mesa.
The company said last month that its Behringer Harvard Multifamily REIT I Inc. would be providing equity capital for the construction of Pacific Gateway, a 113-unit complex at Harbor Boulevard and Bernard Street near the end of the Costa Mesa (55) Freeway.
Fairfield Residential Co. of San Diego is handling the development of the midrise project, located on land where a for-sale condo project was once planned.
A financing deal had been expected.
The REIT made a nearly $5 million loan in 2011 for the 2.5-acre parcel of land at the Costa Mesa site.
Behringer Harvard had an option to convert the land loan to an equity investment, which makes it responsible for funding all of the project's development costs, according to regulatory filings.
Behringer Harvard officials last year said the project was expected to cost about $31 million.
Construction is starting to move ahead at the site now, and the project is expected to be completed in the fourth quarter of 2014.
Prev Next