REAL ESTATE: MORTGAGE PACKAGE ON PRIME OFFICES HINTS AT MORE BUYS
$875M Shopping List for Irvine Co.?
Sunday, May 5, 2013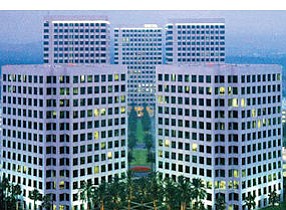 The company has long prided itself on keeping a low level of debt for its investment property division, although sources familiar with the landlord's operations said it's not unusual for the company to seek out loans, especially given its ability to get financing at such low interest rates, as seen in this deal.
Highlights
Morningstar's report, which provides building-specific details for the individual properties involved in the financing deal, has its share of highlights.
Fox Plaza, a 34-story tower in Century City, counts the highest appraised value of any property getting financed, at $436 million.
610 and 660 Newport Center Drive, a pair of Newport Center offices with tenants including law firms Stradling Yocca Carlson & Rauth P.C. and O'Melveny & Myers LLP, has a combined appraised value of about $295 million.
The highest rent paid at the two Newport Center buildings appears to be for Merrill Lynch, which is paying monthly rents close to $6.30 per square foot for about 7,400 square feet of space it rents at one of the buildings. That's more than triple the average office rent paid for higher-end offices in OC.
Irvine Co. notes that with the upcoming opening of the 20-story, 650 Newport Center Drive office for Pacific Investment Management Co., a number of companies that do business with Pimco have been actively seeking space in the area, which could push up rents.
The five office buildings of Jamboree Center in Irvine are appraised at about $455 million, while Irvine Towers is appraised at $270 million.
Irvine Co. is said to own about 83% of the higher-end offices in the area around John Wayne Airport and Newport Center, according to the Morningstar report.
Prev Next