SPEAKER MAKER BUILDS ON EARLY PUBLICITY BOOST
OrigAudio Passes Sound Check
Sunday, March 31, 2013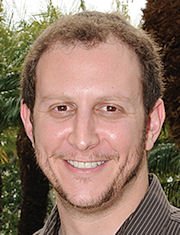 OrigAudio in Costa Mesa has a vintage Southern California tech startup story: humble beginnings shipping products from a garage to a spot among the county's fastest-growing companies.
There's no receptionist behind the front desk at its office, which seems more skate park than place of business. Indeed, there's no front desk at the two-story loft.
Cofounders Jason Lucash and Mike Szymczak sport khaki shorts, T-shirts, trucker caps and sandals to work. A 100-pound golden retriever-German shepherd, named Teddy, barks incessantly.
OrigAudio boomed onto the scene in 2009 with its debut product, the Fold n' Play speaker, priced at about $16, made from recyclable materials and powered through an iPhone. Lucash and Szymczak crafted the origami-inspired idea on an overseas business trip during their four-year stints at Alameda-based backpack maker JanSport.
Carrying bulky portable speakers on flights around the world wasn't practical, so they married their enthusiasm for music with their love of Chinese takeout food and the boxes it comes in. They soon found that old newspapers, phone books and pizza boxes worked out better as housing for speakers.

They took that idea to manufacturers in China and struck a deal.
"We're in about 5,000 stores now," Lucash said. "It's good to be different."
OrigAudio was one of five companies honored at the Business Journal's 12th annual Excellence in Entrepreneurship Awards luncheon March 20 at the Hyatt Regency Irvine.
Time Magazine
OrigAudio was 3 months old and selling about 10 foldable speakers a day when Time Magazine put its Fold n' Play on its annual list of the 50 best inventions of 2009.
"We sold 1,000 speakers that day," said Lucash, who travels to colleges and universities around the world to talk about entrepreneurship.
Lucash and Szymczak were still working full time at JanSport. The company went through its entire inventory within three days and finished the year with some 30,000 units sold.
"That's when we put in our two weeks at JanSport and left," Lucash said.
OrigAudio's next product, Rock-It, debuted at the International Consumer Electronics Show in 2010, when it captured just as much buzz as the Fold n' Play.
The Rock-It can plug into a media player, such as an iPod, and transforms just about any object it attaches to into a speaker through sound vibrations.
The duo soon appeared on ABC's Shark Tank and won, rising above other entrepreneurs to land a $150,000 equity stake from Canadian millionaire Robert Herjavec.
Prev Next