VILLA TAPS LOCAL VETS, DEEP-POCKETED BACKER
New Brokerage Out to Shake Up Luxury Market
Sunday, March 31, 2013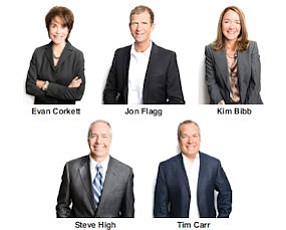 "I believe in this marketplace—I'm bullish on real estate," said Jabara, who describes Mobilitie as a real estate company that happens to be involved in technology.
Orange County "is a real estate economy," Jabara said.
Jabara declined to say how much money it's taken to ramp up Villa Real Estate.
"It's a meaningful investment," he said.
High noted that the founders of Strada Properties put about $2 million behind the company when it launched some 13 years ago. Strada and other luxury brokerages in the area—such as HÔM Real Estate and Surterre Properties Inc., both based in Newport Beach—started with much lower headcounts than Villa Real Estate has.
The technology investments being put into Villa Real Estate also are sizable, according to company officials.
The company is planning to roll out the Villa Key, an application that will let home shoppers point a cellphone or other mobile device at any home on the market and immediately receive home information and photos, according to Derek May, director of marketing for the company.
"It's not just an app to have an app," High said. "Nobody has really embraced the technology part of the industry, but Gary has (had a) willingness to take on that aspect."
Timing
The new brokerage is opening its doors amid signs that Orange County's high-end housing market is heating up (see related Luxury Homes column, page 13). Villa executives said the Newport Beach area has seen more than $2 billion in home sales over the past year.
Local residents, buyers looking for investment properties, and foreign buyers—many from China, Russia, Canada and the U.K.—have been giving the segment a lift lately, Villa Real Estate executives said.
"It's a destination market," Jabara said of the OC markets Villa is targeting.
There are currently more than 600 homes on the market in OC with asking prices of more than $2 million, according to brokerage data. About 150 of those are priced at more than $5 million, and about 50 homes here count asking prices of more than $10 million.
Listings
Villa is starting operations this week with more than 50 local listings, executives said.
Jabara said he plans to maintain a low profile at Villa Real Estate and will continue to spend most of his time at Mobilitie.
"I'll let the team fly," he said.
Jabara said he sees himself as the type of potential customer that the new brokerage will be targeting. He said he's seen, in his own real estate dealings, plenty of examples of what brokerages shouldn't be doing.
"No one wants to feel like a commodity," Jabara said. "Real estate is antiquated, but one aspect that you want to [retain] is the person-to-person relationships."
Prev Next