SHAH TOOK BLACK GRANITE TO NEXT LEVEL WITH MOVE INTO HOUSEHOLD MARKET
MS International's Building Blocks
Sunday, March 31, 2013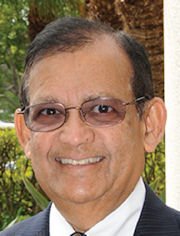 Manu Shah went from tractors to tombstones, and he didn't stop there.
The chief executive of Orange-based MS International Inc. started the company with his wife, Rika, in the mid-1970s.
It was a modest beginning that grew out of his wife's desire for part-time employment, according to Shah, who kept his job as an engineer with agricultural-machinery maker International Harvester Co. for the first few years.
"My wife was the one who actually started this company," he said, recalling the basement-office days at his Fort Wayne, Ind., home. "We had a 6-month-old at the time."
Early Years, Growth
MS International stuck with tombstones in its early years, specializing in black granite imported from the Shahs' native India.
It has grown steadily over the past four decades, supplying commercial projects ranging from airports to retail stores, as well as the household market.
The company now imports natural stones from 38 countries to serve a customer base of more than 3,000 retailers, distributors and fabricators. What began as a husband-and-wife team has grown to a company with $450 million in annual sales and 850 workers internationally, with about 750 in the U.S., including 255 at its headquarters.
The company remains a family-run business, with Shah's two sons, Raj and Rup, joining in 2003 as co-presidents.
Shah was among the five business leaders honored at the Business Journal's Excellence in Entrepreneurship Awards March 20 at the Hyatt Regency Irvine.
He quit his engineering job and turned to MS International full time amid a growth spurt that included a 1981 contract to supply black granite for the Vietnam Veterans Memorial in Washington, D.C.
Shah eyed the household market a few years later, and MS International moved its headquarters to Southern California, putting it close to the region's two major sea ports and squarely amid its growing residential real estate market. The company eventually settled in its current location.
"We were doing pretty good in the early 1980s," Shah said. "[Supplying to memorials] was all we did up to 1984," Shah said. "And then I started asking, 'Why can't it be in kitchens?' "
Shah's efforts to expand the company's product lines coincided with a trend toward natural stone for home use in the late 1980s. MS International would became one of the "pioneers that popularized granite for kitchen countertops," according to Shah, who said 58% of American countertops now are granite.
Countertops remain MS International's largest business segment, but the company's stones—which range from granite and marble to quartz and travertine, all in various colors—also are used in landscaping, flooring and wall tiles.
Prev Next