PACE SPEEDS UP AHEAD OF CYPRESS VILLAGE OPENING
Irvine Co. Seems Set for Orchard Hills Homes Reboot
Sunday, March 31, 2013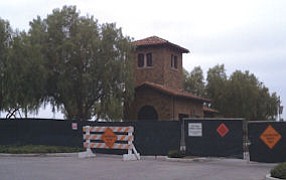 Meanwhile, the opening of Cypress Village is fast approaching. The first three neighborhoods at the project, located just off Trabuco Road next to the Santa Ana (I-5) Freeway, are scheduled to open this spring, with prices starting in the low $700,000s for homes running about 2,000 square feet.
Saywitz Deals
Newport Beach-based brokerage Saywitz Co. said it has completed a trio of area leases in recent weeks with a combined value of $15.6 million.
It represented Balboa Water Group in the largest of the deals, an extension and restructuring of its headquarters at 1382 Bell Ave. in Tustin.
The 10-year, 120,000-square-foot lease is valued at more than $13 million.
The facility, near the Tustin Legacy development, houses Balboa Water's executive offices and corporate administrative functions, as well as local manufacturing operations.
The company makes and distributes spa, bath and pool electronic components.
"This lease, which had two years remaining, was restructured to allow the ownership the ability to refinance the property and secure a long-term credit tenant" with Balboa Water, said Barry Saywitz, president of the brokerage, in a statement.
The new lease also provided Balboa Water "with some rent reduction and improvements to upgrade the facilities," Saywitz said.
Property records show Beverly Hills-based C2H2 Ltd. owning the Tustin building.
The other two leases involved Century 21 Award signing a lease extension for its Irvine office at 4000 Barranca Ave. and a relocation for Tiempo Escrow, a 30-year-old escrow company, to 2100 Main St. in Huntington Beach.
Prev Next