PACE SPEEDS UP AHEAD OF CYPRESS VILLAGE OPENING
Irvine Co. Seems Set for Orchard Hills Homes Reboot
Sunday, March 31, 2013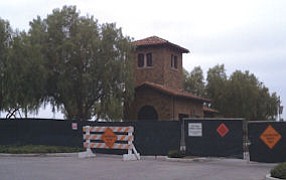 Irvine Company is a little more than a month away from opening its latest for-sale housing development at Cypress Village, but there are signs that the Newport Beach-based developer also has its eyes on a reboot of another major housing project in the not-too-distant future.
The county's largest landowner is said to be ramping up infrastructure work to support home development at its Orchard Hills project in North Irvine, according to contractors working at the site.
A time frame for homes moving ahead isn't clear, but portions of the community appear in good enough condition to allow a start on building as early as next year.
"Our current focus is on the upcoming grand opening of Cypress Village this spring," said Tom Veal, vice president of residential sales and marketing for the developer. "However, I will tell you that we will have some very exciting news later this year that I believe you will find interesting."
Orchard Hills, whose entrance is near Portola Parkway and Culver Avenue, has the potential to hold 4,000 or so homes and figures to be one of Irvine Co.'s higher-end housing projects in the city.
The developer initially said it expected to begin home sales at Orchard Hills a few years after opening its Portola Springs development several miles away on Portola Parkway at the peak of the housing bubble.
The housing downturn put those plans on hold.
When Irvine Co. began building homes again in earnest in 2010, it opted to open developments at its Stonegate, Woodbury East, and Laguna Altura communities rather than Orchard Hills, despite having already done a good share of early stage development work at the site.
Company executives said in recent years that they wanted to focus on building out each of the other developments before turning their attention back to Orchard Hills.
Woodbury East is now complete, while Stonegate and Laguna Altura—which both opened in 2011—are each well more than 50% built.
Orchard Hills already has a shopping center, an apartment complex and a school in place. There's been no other significant ground-up development, although streets, neighborhood entries, and other early stage work are done.
A handful of contractors working at the site last month said they've picked up the pace there in the past few months, although it's unclear how far they've gotten. A good portion of the community, including areas likely to hold some of the community's pricier homes, is fenced off from public view.
Prev Next