FOUNDER JUGGLED DUTIES ON WAY TO "SOMETHING MORE MEANINGFUL"
CiTrials' Winning Mix: Science, Patient Care
Sunday, March 31, 2013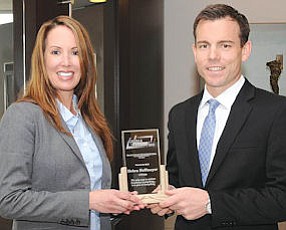 CiTrials has its corporate office on Scenic Avenue in Costa Mesa, with outpatient clinics in Santa Ana, Paramount, Riverside and San Diego to conduct trials. It has more than 85 psychiatric beds at its facilities.
It also has a database of more than 20,000 trial subjects that includes a "diverse ethnic population."
Education
Hoffmeyer, a Seal Beach native, has a bachelor's degree in psychology from the University of Nevada, Las Vegas, and a master's degree in psychology from Columbia University.
She decided to pursue a research career while at UNLV, when she took a job working with a psychologist and a psychiatrist for a biotechnology research professional.
CiTrials has allowed her to blend her academic and private sector experience and leaven those with everyday examples of the potential benefits of research.
"The patients and the science are the most rewarding parts of my business," Hoffmeyer said. "Being able to work with people to help them with their diseases with the latest devices, medicines or diagnostic materials, to me, is like being the queen."
She participates in several community organizations, including the Girl Scout Council of Orange County, Autism Speaks, Catholic Charities, the Leukemia and Lymphoma Society and Orangewood Children's Foundation.
Prev Next