MARKETING: YORBA LINDA PAIR CARVE DIRECT-SALES NICHE
Busy Moms' Accessory: Entrepreneurial Spirit
Sunday, March 24, 2013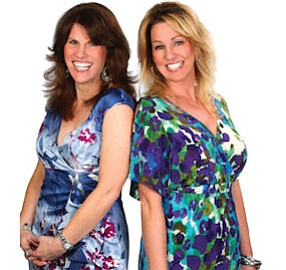 Hillman came with a corporate administrative background, having worked for the now-defunct Washington Mutual. She had no startup experience but knew she wanted a job that would give her a flexible schedule to spend time with her children.
DeSantis-Cummings brought startup experience to the table, with a marketing business and an online newsletter under her belt.
Gigi Hill's products are designed in Yorba Linda and manufactured in China. An Arizona warehouse fills the orders.
The direct-selling model has in part helped the company see 900% sales growth in 2009 and a doubling of sales every year since.
"Our women start their own business and are based nationwide and go into people's homes and then demonstrate the products in their home," DeSantis-Cummings said. "It allowed us to create and to multiply the entrepreneurial model."
Sales Strength Critical
The strength of the company's sales team is critical.
Gigi Hill has relied mostly on word of mouth to recruit salespeople, Hillman said.
Each has a choice of purchasing three "showcases," or kits that contain products for display at home parties or other selling opportunities.
The showcases range from $99 to $379, with salespeople making about 25% in commission on everything they sell. That percentage increases if they decide to sponsor another salesperson.
The choices on showcases have helped the company attract a wide range of salespeople, Hillman said.
"There's something for everyone here, whether they're someone who is what we call a hobbyist or whether you're looking to make a few hundred dollars a month, there's an opportunity here."
Salespeople get training at headquarters or through online tutorials.
There also are January leadership events for the company's executive team and sales team leaders, followed by a July training convention for all levels of salespeople.
This year's convention is expected to bring about 500 people to the Hilton Orange County in Costa Mesa.
Customers
The company also relies on word of mouth to market its products, eschewing traditional advertising.
The company's customers range in age from 25 to 65.
"It's a woman who's busy," DeSantis-Cummings said. "We design for style and function."
Feedback from sales reps has helped expand the company's product line. Demand for men's and teen styles led to last year's addition of the JM Porter Collection for the former and the Gia and Dani Collection for the latter.
"We're very close to our stylists," Hillman said. "They are constantly giving us communication, so for us we have this great feedback loop."
JM Porter accounts for less than 5% of the company's total sales.
Gia and Dani accounts for about 10%. Although the line is positioned as a juniors brand, DeSantis-Cummings said she and Hillman have seen crossover with older and younger customers.
Prev Next