Volcom Footwear Set for Summer Launch
Monday, March 4, 2013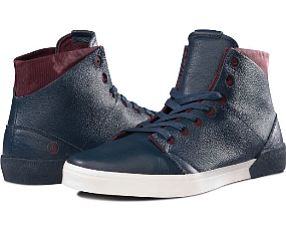 Costa Mesa-based action-sports apparel maker Volcom Inc. said its first-ever line of shoes is expected in stores in July.

Volcom currently sells sandals.
Its debut line of closed-toe shoes includes boots, sneakers, slip-ons and wedges for men and women. The line has been expected under the Volcom brand since parent PPR SA of Paris debuted prototypes last year. PPR also owns the Puma shoe brand.
PPR bought Volcom and its San Clemente-based sunglasses and goggles brand Electric Visual for $608 million in 2011.
PPR's longstanding presence in the luxury market, with brands such as Gucci and Yves Saint Laurent, among others, also appears to be shaping changes at Electric.
Electric announced a series of major changes earlier this year, including a redesigned logo and plans for international growth, along with new helmets and goggles.
Electric expects to make its debut in the watch market later this year with watches priced between $200 and $1,500.